Halloween Survival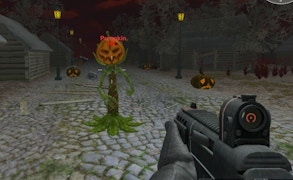 Halloween Survival
Immerse yourself in the spine-chilling world of Halloween Survival, one of the most exhilarating gun games on the market. It's not just a game; it's an adrenaline-pumping, heart-stopping experience that promises to keep you on edge as you navigate through its intense and eerie leagues.
As darkness falls and the midnight hour is close at hand, will you survive or become fodder for the monstrous nightmares stalking you? This monster game beautifully weaves together elements of sniper games and scary games, ensuring a blood-curdling adventure for even the most seasoned of gamers.
Dive into a solo quest or join forces with friends in multiplayer gameplay. The choice is yours. Halloween Survival also offers multiple game modes, each laden with unique challenges. Whether you're a stealthy sniper or a gun-blazing fighter, there's a mode that fits your strategy perfectly.
The in-game weapons and armor shop is stocked with all the tools you need to face down your fears and survive. From high-powered guns to bullet-resistant vests, make strategic purchases and prepare for battle against the creeping evils inhabiting this hellish landscape.
In conclusion, Halloween Survival isn't just any of those run-of-the-mill survival games. It's an immersive experience that tests your courage, strategic planning skills, and shooting accuracy. So gear up this coming Halloween, brave gamer, because survival isn't just a game...it's your reality!
What are the best online games?