Guns and Magic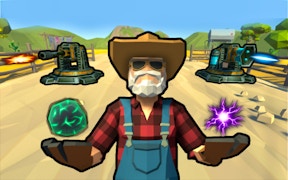 Guns and Magic
Immerse yourself in the adrenaline-pumping world of Guns and Magic, a thrilling fusion of gun games, battle games, and a hint of fantasy rolled into one mesmerizing gaming experience. This game successfully combines elements of monster games, survival games, and strategic building games, creating an addictively challenging universe that puts your skills to the ultimate test.
A portal to a monstrous dimension is flung open, releasing dreadful creatures upon your ranch. Your mission? To protect your home from these uninvited guests using every resource available. The game is more than just pumping lead; it's a masterclass in strategy, resource management, and survival tactics.
In Guns and Magic, you're given free rein to build turrets, barricades, set up lethal traps, call for reinforcement - all while constantly adapting your tactics to an ever-evolving threat. Herein lies the game's charm - its combination of heart-thumping shooting action and intelligent gameplay demands tactical thinking above mindless gunning down.
The use of magic adds a dynamic layer to gameplay, blending traditional shooter mechanics with fantastical elements. The result is an engaging twist on classic shooting, monster-based survival games – you're battling it out with ghastly creatures from another dimension while harnessing the power of magic to tip the odds in your favor.
Guns and Magic offers a fresh take on staple gaming genres that will keep you hooked for hours on end. If you've got a taste for nerve-racking gun battles layered with intense survival strategies, then this is one game that bravely dares to draw you into its captivating otherworldly realm.
What are the best online games?