Grimace Shake - Escape Skibidi and Cameraman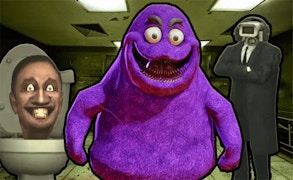 Grimace Shake - Escape Skibidi and Cameraman
If you're a thrill-seeker with a love for action, monster-games, and scary-games, brace yourself for an adrenaline-fueled ride in the terrifying world of "Grimace Shake - Escape Skibidi and Cameraman". Strap yourselves in, as this game isn't just about survival but also a race against time as you embark on an audacious quest to escape from the clutches of the menacing Doctor Grimace Shake.
The ominous setting is a spine-chilling, run-down hospital where you wake up with zero memory. Your sole objective? Get out alive! The escape adventure unfolds in the most spine-chilling manner possible, taking you through hidden corridors and eerie rooms where your only companions are silence and fear.
Your path to freedom won't be a cakewalk. After all, what's an escape-game without being chased by monstrous guinea pigs, or avoiding the unnerving 'Dop Dop Skibidi Toilet' lurking in the sewer or evading the 'Yes Yes Cameraman' roaming around the hospital grounds? Every corner turned can be your last; making every breath you take count!
Your survival tools? Items concealed strategically within the terrifying setting. Opening drawers, cracking safes and exploring closets and cupboards are not just tasks; they're lifelines. But beware - Grimace and Skibidi derive sadistic pleasure from hiding crucial items across varied locations to make your escape more challenging.
All this while ensuring that you don't make any noise because even a slight sound can attract these horrifying creatures. From Skibidi Toilet to Cameraman himself and even Doctor Grimace Shake - anyone could be waiting to knock you out!
Grimace Shake - Escape Skibidi and Cameraman is a chilling mix of suspense, tension, and action. For gamers who enjoy testing their limits, this game will prove to be a relentless thrill ride!
What are the best online games?