Galaxy Attack: Virus Shooter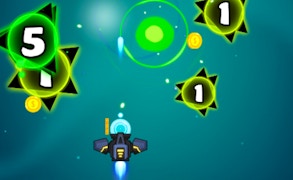 Galaxy Attack: Virus Shooter
Dive into the fast-paced cosmos with Galaxy Attack: Virus Shooter, a mesmerizing amalgamation of shooting, flying, and driving games. This is a game that rekindles the nostalgia of 80's arcade games while injecting a fresh dose of modern dynamics, ensuring it makes its mark in the realm of battle games.
As a relentless, retro-style flight shooter game, Galaxy Attack: Virus Shooter thrusts you into an excitingly frenzied warfare against infectious viruses. You are at the helm of an uber-powerful spacecraft tasked with eradicating wave after wave of these digital threats. As you navigate through this universe under siege, it becomes clear that this is not just an airplane game; it transcends into the arena of skill games.
The undulating pace and timing requirements demand top-notch skills and unflinching concentration, making it an unbeatable choice for those craving to test their prowess in skill games. This game will put your dodging tactics to stern tests as you strive to weave your way past menacing viruses.
The challenge in Galaxy Attack: Virus Shooter escalates swiftly. The viruses multiply in number and in ferocity. But fear not! For as you progress, opportunities to upgrade your spaceship's firepower present themselves, transforming your humble warcraft into a formidable virus-vanquishing weapon. This rise-in-stakes gameplay is what sets this game apart from standard shooting or driving games.
In summary, Galaxy Attack: Virus Shooter strikes a perfect balance between classic arcade aesthetics, thrilling space battles and intricate gameplay mechanics. If you're hunting for unforgettable flying or airplane games that offer more than linear progression - this virus shooting spectacle should be next on your gaming list!
What are the best online games?