Food Empire Inc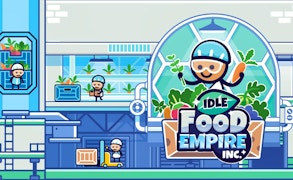 Food Empire Inc
Stepping into the vibrant world of Food Empire Inc, you are instantly captivated by the intriguing blend of clicker games, idle games, and farm games. Taking the best elements from these popular genres, it skillfully combines them into an addictive concoction that keeps you engaged for hours on end.
The game thrusts you into a role of a high-tech billionaire, presenting you with your very own sky farm business. The objective? To grow a diverse variety of crops, from ordinary staples like lettuce and tomatoes to exotic produce like ginseng, all floating beautifully in an awe-inspiring sky city. This delightful twist on traditional farming games sets Food Empire Inc apart from its peers.
As your empire grows, so does your wealth. The satisfying click or tap to collect coins becomes second nature as you invest in upgrades that enhance your operation and automate tasks. Carefully hiring sophisticated managers is crucial, as it ensures automated coin collection even when idle, consolidating the game's position among top tier money games.
The strategic element comes to the forefront with every decision impacting your progress. Building new sky farms expands your empire and increases profits. But beware! Investment choices have consequences in this thrilling tycoon game.
The game also gives you a sense of constant advancement even while sleeping, earning its place in the realm of finely-tuned idle games. Attracting investors to grow your venture further adds another layer of strategy in this complex yet highly rewarding money-making quest.
In conclusion, Food Empire Inc stands out not just as a clever mash-up of several genres but as an excellent standalone game too. Its innovative mechanics paired with strategic gameplay makes it the kingpin of both building games and tycoon games alike.
Use paragraphs for sections, bolds for important details and bullet points where appropriate.
What are the best online games?