Fast Food Factory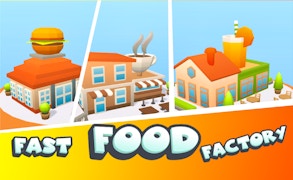 Fast Food Factory
If you've been on the hunt for a game that could hook you in and keep you busy for hours, then Fast Food Factory, an addictive fusion of clicker games, cooking games, idle games, and restaurant games, is the perfect choice for you.
The gameplay is simple and deliciously addictive - think of it as a hamburger; all you have to do is layer each component properly to create a mouth-watering meal. You just click to produce and combine products, giving the game an exciting idle-game feel. Just like watching your favorite dish being prepared, it's relaxing as you watch your creations come to life.
In the Fast Food Factory, each new production line you unlock opens up a world of limitless possibilities. It's like constructing your dream sandwich - the more ingredients you have at your disposal, the more unique your creation can be.
Your factory machine can be filled with a variety of food items - another layer adding to the overall flavor of this compelling mix of cooking games and restaurant games. The real fun kicks in when you start combining your factory machines and bag those critical upgrades!
The upgrade system works smoothly like butter on hot toast. All you need to do is combine identical cars together. It's an easy yet satisfying process that gives this game its captivating clicker-game charm.
The competition gets even hotter with a leaderboard where you can compete with friends. As thrilling as a food fight, but with points being scored instead, this feature adds a spicy competitive edge to this captivating cooking-game.
In conclusion, building your own food empire has never been so immersive and fun. Fast Food Factory is a tasty blend of all the ingredients that make up the perfect action game.
What are the best online games?