Fall Down Party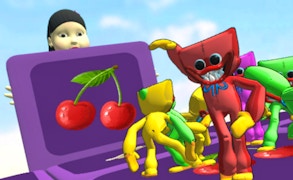 Fall Down Party
If you're a fan of survival games, Skill Games, stickman games, and running games, you are in for a treat with Fall Down Party. It's an action-packed, adrenaline-pumping showdown where every second counts, and your quick reflexes are your best bet at survival.
Fall Down Party is more than just a simple run and dodge game; the stakes are high in this high tension action game. With every new round, the speed increases, the intensity multiplies, and the excitement soars. Each round demands strength, speed, and strategic thinking - your survival is a testament to your skill set.
The core premise of this game revolves around maintaining your position on the playground while avoiding obstacles and defeating enemies before they defeat you. Yes, it's a stickman game, but it's fast-paced and involves more than just dodging bullets - it's about surviving in an ever-shrinking arena loaded with dangers at every corner.
The unique blend of gameplay mechanics from different genres makes Fall Down Party a stand-out among its peers. The suspense from survival games, skills needed to navigate through different environments from running games, strategizing prowess from Skill Games and stickman characters that provide lighter elements all come together seamlessly to create an unrivaled gaming experience.
In conclusion, Fall Down Party creates an immersive experience by combining elements of various popular genres. It offers a compelling balance between skill-based challenges and action sequences to keep even the most seasoned gamers engaged and coming back for more.
If you're looking for a fun game that tests your skills to their limit while providing endless hours of exhilarating gameplay - don't miss out on Fall Down Party!
What are the best online games?