Effing Worms Xmas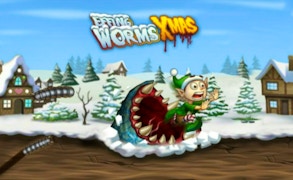 Effing Worms Xmas
Unleash your monstrous urges in the holiday-themed action extravaganza, Effing Worms Xmas. As an underground dweller with a prodigious appetite for meat, this game speaks to anyone who loves monster games and worm games alike.
From its grinch-like premise of seeking revenge for a bad Christmas present from Santa, to the savage joy of consuming elves, yetis, and reindeer, Effing Worms Xmas is a unique mashup in the realm of scary games and Christmas games. Your worm's hunger is insatiable and indomitable - just like fans of battle games will find their craving for action and strategy satisfied here.
Crawl out from the earth's depths to create holiday havoc on the surface. Feed on every creature that crosses your path to grow larger and stronger. But beware! Overindulging your monster worm's carnivorous tendencies might turn out to be dangerous as you leave yourself exposed to attacks.
The game rewards you for your voraciousness - but it also expects you to be smart about it. You can't just gobble up everything in sight; you need to pick your battles (and meals) wisely. The design brilliantly weaves together elements from monster games, worm games, battle games, scary games and even Christmas games into an addictive action-packed world.
Effing Worms Xmas has simple controls that ensure you can dive right into the meaty mayhem without too much fuss - after all, being a gigantic beast ought not to be too complicated! Its delightfully twisted theme of revenge fused with festive cheer ensures that this game stands out as an entertainingly eclectic experience.
If you've ever wished for more monsters under your Christmas tree or felt the desire to turn tables on Santa Claus himself - then Effing Worms Xmas is the perfect gift for your gaming holiday season!
What are the best online games?