Effing Worms 2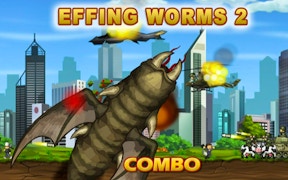 Effing Worms 2
Prepare to delve into a world of grit and grime, where only the most ferocious survive. Welcome to Effing Worms 2, a monstrous feat in the realm of monster games. If your gaming preferences veer towards audacious battle games, you're in for a thrilling ride!
Your worm, after a two-year hiatus, has slimmed down but fear not! It still exhibits its majestic wings and is ready to wreak havoc again. There's something oddly satisfying about consuming people, getting bigger and evolving to become an unstoppable force in this gut-wrenching display of primal instincts.
Among the myriad of worm games available online, Effing Worms 2 truly stands out for its immersive gameplay and seamless controls. The challenge lies not just in managing your hunger-driven worm but also in leveraging its natural evolution process to make it the ultimate predator.
If you're looking for heart-pounding action intertwined with suspense, this game is bound to keep you on the edge of your seat. Between navigating through a macabre landscape filled with unsuspecting victims and escaping fierce enemies hell-bent on your doom, Effing Worms 2 easily qualifies as one of the most exciting scary games up for grabs.
This game incorporates all elements necessary to keep action gamers hooked - nerve-racking difficulty levels, unique power-ups, and unpredictable surprises that can catch even the most experienced players off-guard. And what's more? You can enjoy all these adrenaline-fuelled moments for free!
In conclusion, the gruesome splendor of Effing Worms 2 will undoubtedly satiate your hunger for high-octane action and horror. Embrace your monstrous side and give this game a try today!
What are the best online games?