Crowd Lumberjacks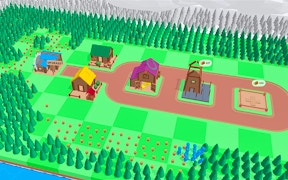 Crowd Lumberjacks
Welcome to the enticing realm of Crowd Lumberjacks, a unique concoction of stickman games, sword games, idle games, tap games, and clicker games stirred with the flavors of building games and city building games. This intriguing mash-up promises a thrilling gaming experience with its blend of tycoon games elements.
Imagine yourself as a powerful leader leading a crowd of lumberjacks in an unexplored world. Wielding your sword or axe, you engage in tap and click battles against sturdy trees. Just like other classic stickman games, Crowd Lumberjacks is not just about chopping trees; it's also about strategizing the construction of awe-inspiring buildings in a race against time.
The idle game element cleverly introduces an auto chop and building mechanism making the game speed fast paced and the controls super simple. You hardly lift a finger to tap or click, yet the excitement amplifies as you see your crowd of lumberjacks grow and your city expanding. The lure of this game lies in its simplicity – it's one of those clicker games that combine strategy with fun.
If you have ever enjoyed tycoon games then you would definitely find Crowd Lumberjacks addictive. How quickly can you amass woodcutters for your team? How swiftly can you turn a forest into a bustling city? These engaging questions render this one of the engrossing city building games!
In essence, Crowd Lumberjacks pushes the boundary of stickman games by introducing elements from different genres like sword games, building games while maintaining the charm of idle, tap and clicker mechanism. So grab your phone now! Unleash your inner tycoon as you chop, build & lead in this fantastic gaming universe.
What are the best online games?