Classic War Tankz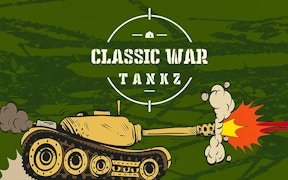 Classic War Tankz
Prepare to be transported into the thrilling world of Classic War Tankz, a unique fusion of tank games, battle games, and coloring games. This game artfully straddles the line between strategic combat and artistic craft, offering a fun-filled escapade that caters to all gamer types.
In Classic War Tankz, the battlefield swarms with an array of color-themed tanks. The primary twist here is the innovative coloring dynamic, with players tasked to select color orbs matching their tank's color. This simple, yet engrossing mechanic transforms this shooting game into a strategic endeavor, driving players to engage their tactical acumen to score higher.
Scoring in Classic War Tankz is an invigorating challenge that stimulates your senses while quenching your thirst for competition. The thrill of navigating a vibrant battlefield brimming with colored projectiles amplifies the gratification derived from the seamless blend of battle games and coloring games.
The game goes the extra mile by incorporating rewarded ads; a cleverly incorporated feature that lets you extend your playtime and rack up even greater scores. It keeps you glued to your screen, set on conquering new heights in this intriguing realm of tank battles.
The game's user-friendly interface coupled with its straightforward gameplay mechanics ensures that players of all skill levels can engage in this colorful mashup of strategy and shooting.
In summary, Classic War Tankz is a delightful gem for lovers of tank games and battle games seeking an unexpected twist. Its innovative integration of coloring adds an entirely new dimension to its gameplay dynamics, solidifying its status as an exciting addition worth exploring in shooting games.
If you're looking for something out-of-the-box within the realm of online gaming – something that blends strategy, combat action, and artistic finesse – Classic War Tankz may just tickle your fancy!
What are the best online games?