Burger Chef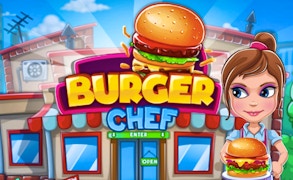 Burger Chef
Step into the sizzling world of culinary mastery with Burger Chef, one of the most engaging restaurant games that's as addictive as it is delicious. Combining elements of cooking games and management games, this title will no doubt satisfy your gaming appetite while thrilling your taste buds.
The premise is simple yet efficient. You run your own burger restaurant, tasked with accommodating each guest's request. Here's where the challenge lies - can you craft the perfect burger within the limit time? But it's not just about speed. Accuracy and attention to detail are also key in preparing finger-licking burgers, crispy French fries, scrumptious chicken nuggets, and then pairing them off with an ice-cold glass of Coca-Cola.
Burger Chef brings out the strategy gamer in you, encouraging meticulous planning and efficient execution - skills essential to become a perfect burger chef. What sets this game apart from other cooking games are its immersive gameplay and intricate management elements. It perfectly encapsulates the hustle and bustle of a real-life restaurant environment.
Rising from a novice to a seasoned chef involves not just serving food but managing everything from ingredients to customer satisfaction. The challenge mounts as you progress, with an increasing array of recipes and more demanding customers adding spice to the management game.
Burger Chef keeps players on their toes, providing a riveting experience akin to running an actual restaurant. If you're a fan of restaurant games or cooking games that require a touch more strategy, then Burger Chef is undoubtedly your perfect meal ticket!
In conclusion, Burger Chef is truly a standout in the realms of cooking games and management games. For those seeking fun with a side order of challenge, this game will satisfy both your strategic cravings and digital culinary desires.
What are the best online games?