Defenders of the Realm: an Epic War !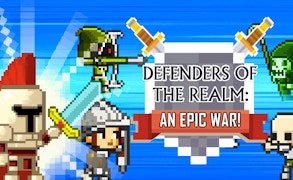 Defenders of the Realm: an Epic War !
Immerse yourself in the mesmerizing world of pixel games with Defenders of the Realm: an Epic War! This arresting blend of strategy and war games commands your attention and refuses to let go. Experience the thrill of battle games, the precision of archery games, and the intricate planning required by the best war games all in one riveting package.
Defenders of the Realm: an Epic War, doesn't just create a world; it crafts a pulsating realm under threat from relentless enemies. As king, you are tasked with protecting your kingdom from monstrous hordes, dispatched by a sinister adversary harnessing cruel creatures and lethal magic.
The threats to your realm are more than just physical; they're insidious, creeping into every corner of your kingdom, slaicling down your people - a bloody reminder that this is far more than a game; it's a battle for survival in a dark age.
Your command skills will be tested like never before. The strategic element of this war game forces you to think two steps ahead, balancing resource management with unit formation and battleground tactics. The pixel artstyle enhances every tough decision with tangible tension.
In contrast to other generic pixel games, Defenders of the Realm: an Epic War utilizes its graphics to accentuate its gameplay rather than relying solely on them for appeal. The captivating visuals effortlessly complement the game's engrossing narrative, leading you deeper into a realm besieged by warfare.
Defenders of the Realm: an Epic War excels in creating an environment where strategy meets action. It's more than just another entry in the overcrowded catalogue of battle games – it's a unique fusion that ensures every player will find something to enjoy. Don't miss out on one of the most stimulating archery games today – steer your kingdom away from devastation and towards victory!
What are the best online games?