Sweet Shop 3D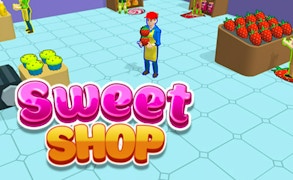 Sweet Shop 3D
Immerse yourself in the sugary world of Sweet Shop 3D, a delectable addition to the realms of city building games, with scrumptious servings of strategy, management and creativity. In this exquisite game, not only do you get to create a culinary paradise, but you also get to serve your creative desserts to customers craving for sweetness.
As an entrant in the farm games section, Sweet Shop 3D takes planting and harvesting beyond simple fruits and vegetables. Here, you cultivate mouth-watering treats that are as delicious on-screen as they sound on-paper. You build, design and manage your very own sweet shop – a tasteful twist on traditional building games.
In line with the best money games available today, your primary objective is to earn hefty profits from your sugary empire. This isn't just about pouring some sugar; strategic thinking comes into play as customers come charging for your delightful delicacies. Anticipate their sweet tooth and get rewarded generously for your quick service.
This game goes beyond a basic sweet-selling venture; it incorporates elements from various restaurant games. You hire workers, expand your store's layout, and meticulously manage the daily operations. The satisfaction of growing your business from a small parlour to a bustling dessert district is indescribable.
A clever blend of strategy and creativity, alongside charming visuals and addictive gameplay make Sweet Shop 3D an excellent choice for fans of city building games, restaurant games, or anyone who simply appreciates good management games.
In essence, playing Sweet Shop 3D is like baking a luxurious dessert from scratch - it requires time, attention, precision and at the end - rewards you with something truly delightful that leaves you wanting more. Sweeten up your gaming routine with this engaging feast of fun!
What are the best online games?