Attack on Fatboy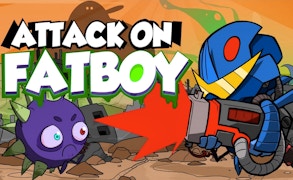 Attack on Fatboy
Immerse yourself in the heart-pounding world of Attack on Fatboy, a dynamic shooting game that effortlessly merges the thrill of flying games with the intense excitement of monster games. This thrilling interstellar odyssey will grip you right from the start with its high-stakes narrative and relentless action.
The game's plot centers around a group of intrepid intergalactic warriors, referred to as guardians, locked in an epic battle against malevolent alien invaders hell-bent on our planet's destruction. In this gritty fight for survival, you're thrust into an indispensable role, aiding these valiant protectors in their quest to purge Earth from these vile creatures.
Attack on Fatboy's compelling gameplay mechanics are its true highlight. This is not just another run-of-the-mill shooter; it is a strategic battleground where every move counts and your focus is tested. The adrenaline-pumping aerial combats are designed to keep you on the edge of your seat and the heart-racing confrontations with monstrous aliens are riveting.
The Fatboy, the dreaded boss alien, adds an extra layer of challenge, making your mission even more daunting. Standing between you and victory, he requires skillful maneuvering and clever strategy to defeat. It's these nerve-wracking boss battles that leave players feeling accomplished and eager for more.
In conclusion, Attack on Fatboy is an enthralling fusion of flying games and monster games that delivers non-stop action while maintaining a solid storyline. Engage in thrilling shooting matches, tackle menacing alien monsters, outsmart cunning bosses, and embark on a heroic quest to save our planet. This game is sure to leave both shooting game aficionados and new players craving for more!
What are the best online games?