Air Force 2018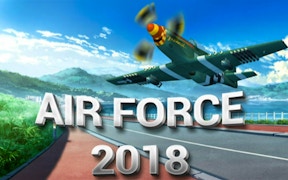 Air Force 2018
Thrilling, immersive, and action-packed, Air Force 2018 seamlessly blends intense gun games with adrenaline-fueled airplane games to deliver a supremely gratifying battle game experience.
As the pilot of the awe-inspiring super F117, you are in for an electrifying display of epic dogfights and heart-stopping maneuvers as you battle hostile forces in this stellar addition to the flying games genre. This war game captures the essence of real aerial warfare with its breath-taking graphics and meticulously crafted controls that will leave you on edge.
Your mission, if you choose to accept it, is to destroy enemy combatants whilst smartly managing your resources. Pick up ammo, keep an eagle's eye on your fuel gauge, and seek out hearts to prolong your life in the game. The goal: survive as long as possible and etch your name on the leaderboard of fame.
The riveting in-game dynamics coupled with a gritty war game ambiance make Air Force 2018 more than just another browser-based endeavor. It's a triumphant celebration of shooting games that stays true to its genre while offering unique gameplay elements.
In conclusion, Air Force 2018 is an exhilarating war game experience that deftly blends elements from gun games and airplane games to create a thrilling airborne battle saga. If you're itching for a fresh take on shooting games or are looking for an impressive HTML5 offering to tide you over between AAA releases - then strap up soldier! Your mission awaits in Air Force 2018, one of the finest flying games available right now!
What are the best online games?