Agent Alpha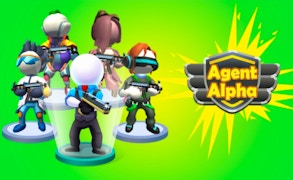 Agent Alpha
If you're on the hunt for gun games, battle games, or survival games that will keep you on your toes, then set your sights on Agent Alpha. This isn't just another shooting game; it's a high-octane adrenaline rush that marries the thrill of being an undercover cop with the sheer exhilaration of a gangster's life.
Agent Alpha is essentially designed for those who have a penchant for police games and gangster games. It effortlessly melds these two genres into a captivating shooting game that will push your gaming prowess to its limit. Don't be fooled by its casual nature, as beneath this facade lies an intense, all-or-nothing arena where survival is the name of the game.
In its core, Agent Alpha is a simple game - slide to move and shoot to kill. But, this simplicity is precisely what amplifies its charm. No convoluted controls or mind-boggling strategies here, just raw, unrivaled firepower at your fingertips.
The main attraction here? An impressive arsenal of cool guns waiting for you to unlock. Each weapon brings with it a unique edge to your gameplay – making every unlock an exciting anticipation as you press the trigger wildly and savor the thrill of outshooting your foes.
In essence, as you immerse yourself in the chaotic yet addictive world of Agent Alpha, every mission is a chance to prove your mettle as the ultimate agent. Bask in the thrill of surviving intense battles and embark on a roller-coaster ride that's all about coming out on top - all while feeling the raw fun that only shooting games can provide. Jump into action now with Agent Alpha – because when it comes to gun games and survival games, nothing compares!
What are the best online games?