After Burner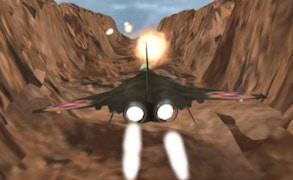 After Burner
Prepare your joysticks, dear gamers! Today we're taking to the skies with an exhilarating shooting adventure titled After Burner. One of the most addictive entries in the exciting world of flying games, After Burner takes the thrill that airplane enthusiasts crave and infuses it with a rush of adrenaline that only the best war games can offer.
From the moment you launch off from your carrier in your finely detailed jet, you'll find yourself immersed in fast-paced aerial combat that asks one question: how far can you go? This isn't just one of those run-of-the-mill airplane games; it's a nerve-racking test of your reaction speed and combat strategy.
The shooting action in After Burner is as relentless as it is satisfying. Every enemy fighter that flies into view becomes an opportunity to showcase your incredible piloting skills and sharp shooting. As you progress, waves of enemies become more aggressive and cunning, turning every mission into a heart-pounding ballet of bullets and blazing engines.
In terms of war games, After Burner stands out with its attention to detail and dedication to creating an authentic flying experience. The sound design alone—roaring jet engines, fierce missile launches, explosive destruction—is enough to pull any passionate gamer into this chaotic aerial warfare.
True to its name, After Burner will leave you feeling exhilarated and yearning for more fast-paced shooting action. So buckle up, pilot—your thrilling aerial adventure awaits!
If you've been eagerly searching for the next big thing in flying games or war games genre - don't look any further because After Burner has arrived!
What are the best online games?