Zombies Survival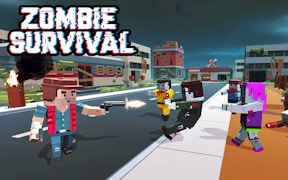 Zombies Survival
Welcome to my electrifying review of the adrenaline-fueled Zombies Survival, a game that masterfully combines elements from zombie games, survival games, and gun games to create an epic experience. An amalgamation of heart-stopping fear and phenomenal action, Zombies Survival is a must-play for any fans of the genre.
This game plops you right in the middle of an apocalyptic nightmare where it's your wits against the undead hordes. As one of the few survivors, your mission is to fight your way to the CDC in search of a cure, making this game unparalleled in its immersion amongst other battle games or war games.
In Zombies Survival, every moment is a battle; every step could be your last. The chilling atmosphere contributes to its standing as one of the most immersive scary games. The inclusion of sniper mechanics adds another layer to the gameplay, elevating it above your standard gun or sniper games.
The uniqueness of Zombies Survival carries over into its art style as well. With retro-inspired graphics, this game stands out compared to other zombie or survival offerings. It's a refreshing change from the norm and definitely earns points for being one of the more distinctive pixel games.
In conclusion, whether you're a veteran gamer looking for a thrilling zombie apocalypse experience, or simply seeking out some novel strategic challenges in survival play—Zombies Survival delivers on all fronts. Offering more than just run-of-the-mill shooting and fighting mechanics; it adds depth with its story and strategy elements that leaves players coming back for more.
If you haven't already added Zombies Survival to your collection, don't waste another second. Dive headfirst into this exhilarating world and see if you have what it takes to survive!
What are the best online games?