ZombieCraft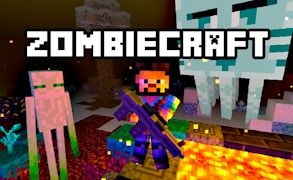 ZombieCraft
Immerse yourself in the pixelated world of ZombieCraft, a mind-blowing fusion of our favorite pixel-games and adrenaline-pumping battle-games. As a unique entry in the realm of gun-games, ZombieCraft takes the zombie apocalypse and drops it right into a Minecraft-esque environment, blending the allure of creativity with the thrill of survival.
Fans of games-like-Minecraft will revel in the familiar settings. Yet, don't be fooled by the charming aesthetics. This isn't your usual construction mission. The challenge here is to survive. You are humanity's last standing defender against the relentless and blood-curdling waves of the undead in this ultimate test among zombie-games.
In ZombieCraft you're tossed into a nerve-wracking setting where it's you against an army of undead. The game thrives on its balanced blend of simple graphics and complex mechanics. It demands strategic planning, accuracy, and agility all within an immersive pixel-graphic environment that marvelously orchestrates a dreadful yet exciting atmosphere to keep you hooked for hours.
The game presents a generous arsenal to defend yourself against zombie hordes. From traditional shotguns to explosive grenades, each weapon brings its own flair to your bloody tussle for survival. Your ability to switch between weapons, coupled with swift decision-making skills, sharpens gameplay into an exhilarating experience that solidifies ZombieCraft as a challenging contender within popular shooting games.
In essence, ZombieCraft delivers an unforgettable gaming journey that injects fresh life (or should we say death!) into familiar pixel landscapes by conjuring intense action sequences filled with terrifying zombies. It's a thrilling exploration that seamlessly merges creative construction with fast-paced combat, making it a must-play for lovers of pixel-games, gun-games, and zombie-games.
What are the best online games?