Zombie Survivor Fight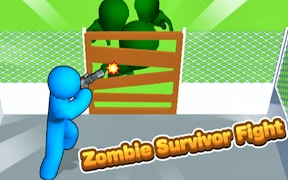 Zombie Survivor Fight
If you're a fan of battle-games and gun-games with a gritty, apocalyptic twist, look no further than Zombie Survivor Fight. This intense shooting game plunges you into an adrenaline-fueled fight for survival in a world overrun by the undead. It's one of the most thrilling zombie-games you'll encounter, packing every moment with non-stop action and strategic decision-making.
Your best chance of surviving this onslaught lies in your weapons. The game offers a satisfying variety of firepower that you can upgrade – from the rapid-fire assault of machine guns to devastating shotgun blasts. Combat is smooth and responsive, making each zombie kill feel brutally satisfying.
But survival isn't just about going on a trigger-happy rampage. You also need to fortify your safe zones with guards and traps. These tactics add a deeper layer to the gameplay that fans of stickman-games, where strategy is key, will appreciate. Successfully defending your territory against wave after wave of rotting foes is a delightfully tense and challenging endeavor.
The looming threat of the 'zombie tsunami' keeps the stakes sky-high throughout your journey. This constant sense of danger adds an exhilarating urgency to every decision you make - it's survival warfare like you've never experienced before in zombie-games.
In conclusion, Zombie Survivor Fight brilliantly combines intense shooting action with strategic base defense to create a unique gaming experience. Whether you're navigating through dilapidated city streets or hunkering down for a stand against the undead hordes, Zombie Survivor Fight promises hours of heart-stopping thrills for any battle-hardened gamer.
What are the best online games?