Zombie Outbreak Arena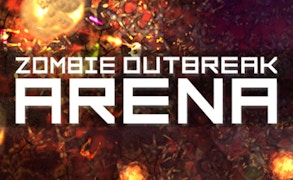 Zombie Outbreak Arena
Unleashing an array of relentless mayhem, Zombie Outbreak Arena carves its name in the pantheon of thrilling zombie games. This high-intensity, top-down shooter game is certainly not for the faint-hearted. It's a frenzied roller coaster ride that will constantly keep you on the edge, cementing its place among the most enthralling survival and horror games.
Your primary aim? To survive. Stand your ground amidst an incoming horde of zombies, growing inexplicably in number and strength as you delve deeper into the dark depths of this nightmarish arena. You're not just battling mindless zombies here; you're battling to keep your sanity.
The game comes alive with its progression structure - kill zombies to level up and judiciously use skill points to upgrade your abilities. The strategic distribution of these skill points is crucial, adding a layer of strategy that intertwines seamlessly with its fast-paced gameplay.
No gun game would be complete without a spectacular arsenal, and Zombie Outbreak Arena doesn't disappoint. A diverse variety of weapons and power-ups pave the way for gloriously gory showdowns. But beware! The introduction of other survivors adds a twist as they can be allies or threats - making for unpredictable encounters.
Mess up and die? Don't worry! This game embraces a compelling 'die-and-try-again' philosophy that only heightens the addictive nature of this exhilarating zombie-infested world. From fast-paced skirmishes to strategic planning, it perfectly balances chaos with grit.
In conclusion, Zombie Outbreak Arena's immersive narrative combined with its relentless, adrenaline-fueled gameplay firmly cements itself among today's prominent horror survival games. If you're thirsty for blood-curdling action, this game quenches that thirst...and then some! So grab your guns and steel yourself; the zombie outbreak awaits!
What are the best online games?