Zombie Mayhem Online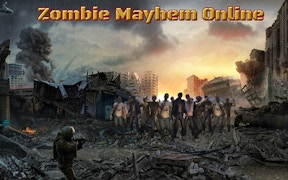 Zombie Mayhem Online
Step into the adrenaline-charged, gut-wrenching world of Zombie Mayhem Online, a top-tier title that unites the thrill of gun games, the precision of sniper games, and the brain-biting savagery of zombie games. This is survival gaming on a grand scale, where every headshot counts, and every missed bullet could mean your doom.
This is not just another one of those run-of-the-mill battle games; it's an immersive journey into a post-apocalyptic world where the undead rule, and you're fighting to reclaim earth. Featuring three unique maps, each with ten menacing levels infested with over 20 different zombies type. Guard your senses against the onslaught of these hideous creatures, all thanks to the game's horrifyingly detailed Zombie Dismemberment System.
As if getting your hands dirty in one of today's top scary games isn't rewarding enough, Zombie Mayhem Online offers an incentive for each rotten flesh you send back to their graves - coins. Accumulate these to unlock six different weapons. Choose from heavy machine guns for a blaze of glory or snipers for stealthy takedowns - each weapon is designed to cater to your very own style in this adaptable horror survival game.
In terms of visuals, this game is no less than any other masterpiece horror games; it's gruesome yet brilliantly captivating. The bloody scenes and gory details displayed are not only a testament to its genre but also add an extra layer of morbid excitement that will keep your heart pounding throughout your zombie-killing spree.
Zombie Mayhem Online isn't just another game; it's a thrilling exercise in survival strategy and brute force that will have you on edge from start to finish. Whether you're a veteran zombie slayer or new to the genre, this game offers an intense ride that will challenge your reflexes and frighten you in equal measure!
What are the best online games?