Zombie Arena 3D Survival Offline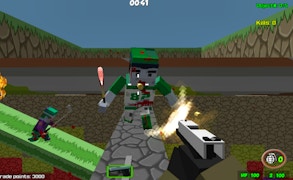 Zombie Arena 3D Survival Offline
Hold on to your guns
, gamers, and prepare for one of the most ruthless
pixel games
you've ever encountered —
Zombie Arena 3D Survival Offline
. This game isn't just your average, run-of-the-mill zombie apocalypse game. No, this is a thrilling blend of
gun games
,
battle games
, and
survival games
, all rolled into a pixelated package of pure adrenaline.
Upon embarking on your harrowing journey in this zombieland apocalypse, you'll be thrust into an offline survival scenario where every corner turned could spell out your doom or victory. Zombie Arena truly lives up to the reputation of intense zombie games; it's a desperate fight against a variety of zombies, ranging from ferocious fire-breathing horrors to gargantuan zombie bosses that will test the mettle of even the most hardened gamer.
In this adrenaline-fuelled frenzy, you're not just a sitting duck waiting to become zombie chow; you're a highly trained sharpshooter equipped with an assortment of heavy artillery. This is where fans of sniper games will find themselves in their element, as mastering the art of headshots can mean the difference between survival and defeat.
The pixel graphic style adds another layer to this immersive experience. It's reminiscent of early arcade games yet incorporates modern gameplay mechanics flawlessly. The obstacles in Zombie Arena aren't just physical; they're psychological too. With each passing level, your heart pounds harder as you find yourself more invested in surviving this apocalyptic nightmare.
Zombie Arena is a thrilling ride through an apocalyptic wasteland that seamlessly integrates elements from gun games, battle games and sniper games into one riveting survival game. It promises - and delivers - endless shooting fun soaked in pixelated gore, all without requiring an internet connection. Have fun battling against every conceivable variant of undead creature in one of the best offline zombie survival experiences on offer today!
What are the best online games?