X Parkour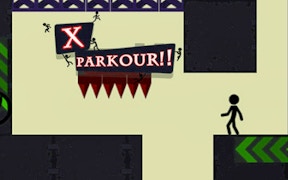 X Parkour
Dive into the adrenaline-pumping world of X Parkour, a high-speed, high-stakes adventure that blends the best elements of escape games, stickman games and survival games into one exhilarating package. If you're a fan of skill games with a competitive edge, then X Parkour is a must-try for you.
The game tasks you as a super stickman runner in an urban maze that's fraught with hazards at every corner. The heart of the experience lies in its lightning-fast gameplay which challenges you to run, jump, slide and dash past obstacles with superhuman agility and pinpoint precision. It's survival of the fittest - or rather, the fastest.
The unique combination of skills required in this game sets it apart from typical stickman or survival games. Not only does your virtual life depend on quick-thinking and precision control, but also on your strategic approach to each level. At its core, X Parkour is not just about surviving; it is about thriving amidst chaos and unpredictability.
The game's controls are smooth and intuitive, making it easy for beginners to pick up but difficult to master - adding to its addictive nature. The appealing visuals paired with seamless animations makes this game an utter joy to play - an experience further amplified by its vibrant sound design.
In conclusion, X Parkour offers a perfect blend between challenge and fun. It's an excellent exercise in reflexes and strategic thinking while offering hours of entertainment quite unlike any other. If escape games and survival games are your cup of tea or if you're just a fan of dynamic action-packed stickman games, then don't miss out on this fantastic parkour runner game!
What are the best online games?