Wugy Halloween Tower War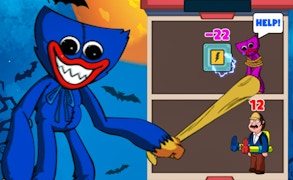 Wugy Halloween Tower War
Dive into the alluring, eerie world of Wugy Halloween Tower War, a captivating entry in the realm of scary games that effortlessly blends elements of monster games, management games, battle games, and skill games into one bewitching brew. Each moment in this action game is tinged with adrenaline and the constant thrill of unpredictability, perfect for gamers who thirst for challenges.
Step into the shoes of a tactical mastermind as you navigate through an array of fiendishly clever puzzles. These aren't your typical brain teasers; they're strategically intricate riddles designed to test your mettle and keep you on your toes. The game's difficulty gradually escalates with each level, ensuring a consistently engaging experience as you maneuver your powerful heroes around an ever-evolving map.
The core mechanic of Wugy Halloween Tower War involves unleashing your heroes' unique abilities to defeat looming monsters and rescue the damsel in distress. The presence of these terrifying beasts cements its position as one of the standout monster games in the market. With every victory comes progress – gather gold, skins, and new heroes to fortify your tower and expand your arsenal.
This seamless blend of battle and management aspects adds layers of complexity that cater to diverse gameplay preferences. Whether you're meticulously planning your resource allocation or diving headfirst into thrilling battles, Wugy Halloween Tower War serves an intoxicating mix for fans of both battle games and management games.
In conclusion, Wugy Halloween Tower War is more than just another title in the crowded arena of scary games - it's a strategic action-packed extravaganza guaranteed to have gamers hooked from start to finish!
What are the best online games?