Wasteland Shooters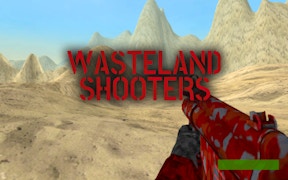 Wasteland Shooters
Step foot into the nerve-shredding, adrenaline-pumping world of Wasteland Shooters, a pre-eminent standout in the realm of gun games, battle games, and war games. Synonymous with heart-throbbing action and riveting gameplay, Wasteland Shooters is unapologetically raw, boasting a wide breadth of features that are poised to cement its status among the top-tier survival games.
You are summoned into an unforgiving battlefield teeming up to 16 relentless players per room, each with just one goal – dominate or be dominated. Wasteland Shooters thrusts you into virtually designed yet frighteningly realistic wastelands spanning across four mind-bending maps filled with obstacles set to challenge your mettle.
The game modes – Deathmatch and Team Deathmatch – are more than just names; they encapsulate the high stakes and frenetic pace of this remarkable entry in the genre. Your survival instincts will be put to test as every step you make can lead either to victory or doom. This adds exhilarating tension synonymous with top sniper games.
The weapon collection in Wasteland Shooters is nothing short of impressive. Whether you fancy the silent and swift approach with a Knife or Deagle, or prefer the loud rumble of an MP5, Shotgun, Sniper, RPG or Grenade launcher, your style of engagement is well catered for.
The game shines in championing player agility capabilities. With swift movement and higher jumps, evading enemy fire becomes an artful dance paving way for even more thrilling encounters.
In essence, Wasteland Shooters is more than a shooting game; it's a testament to human survival instincts under duress. If you thrive on fast-paced shooting action with high stakes at every turn, then this masterpiece might just become your next gaming obsession.
What are the best online games?