Wall Breaker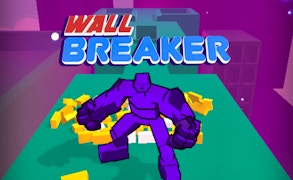 Wall Breaker
Description
Feel the rush of liberation in Wall Breaker, an action-packed game where you find yourself trapped within confined spaces such as dull offices or jam-packed streets. Your main objective: demolish the haunting walls of monotony and taste freedom once more. The destruction of each wall not only brings you joy, but it makes you feel invincible and fully charged with energy.
How to play
Wall Breaker is straightforward to play. Use your preferred controls to aim at the walls and start breaking them down. Your power will grow stronger with each wall you destroy, granting you additional strength for further destruction. Speed and precision are essential, as progress is marked by the number of broken walls.
Tips and Tricks
In order to master Wall Breaker, focus on improving your speed without sacrificing precision. Remaining agile and precise will lead to faster wall destruction. Remember, your power grows as more walls get destroyed, so aim for quick progress to gain extra strength.
Features
Simplified yet riveting gameplay set within different environments.
Intriguing progression system where power increases with each demolished wall.
Precision-based challenges enhancing overall gaming skills.
A unique blend of action and skill-based game mechanics for a thrilling experience.
What are the best online games?