Vikings vs Monsters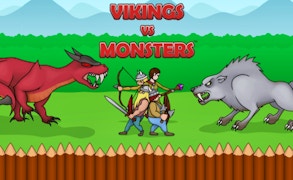 Vikings vs Monsters
Step into the fascinating world of Vikings vs Monsters, the latest sensation in the realm of action games. This dreadfully addictive clash of archery games, wrapped up in the captivating lore of Norse mythology, ensures epic duels and relentless battles that keep gamers on their toes.
As a player, your task is to defend your Viking village from monstrous onslaughts. But don't let this fool you into thinking this is just another one of those run-of-the-mill battle games. Vikings vs Monsters elevates the genre with its blend of strategy, action, and suspense, making it a standout in both sword games and monster games.
The gameplay is thrillingly immersive. Whether you're shooting arrows from your longbow or swinging your mighty sword, every wave of monsters brings unique challenges that test your strategic mettle. The environment too plays its part - snow-capped mountains, dense forests and inclement weather create hauntingly beautiful stages for these deadly battles.
The game's graphics are stunningly realistic. From the misty fjords to the gruesome monsters, every detail is rendered with exquisite attention, heightening the sense of immersion. The character designs too deserve mention - resplendent in their Viking warrior glory, they bring the power and bravado of Norse folklore to life.
In conclusion, Vikings vs Monsters offers thrilling gameplay steeped in Viking lore while challenging players' strategic skills. A must-play for fans of archery games, battle games, sword games, or just anyone yearning for a good old monster showdown! It's more than just a game; it's an epic saga written with arrows and swords where you battle against formidable odds to protect what's yours.
What are the best online games?