Vex 8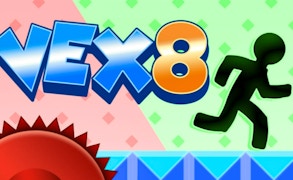 Vex 8
Welcome to the adrenaline-charged world of Vex 8, the latest game in the highly popular Vex series. This action-based, running game is a eldorado for gamers who love a mix of agility, speed, and precision. This high-intensity platformer takes you on a thrilling, heart-pounding journey through challenging obstacles including new red-green light traps that add an extra layer of excitement.
The gameplay in Vex 8, unlike other stickman games, is designed to test your mettle to its limits. The game challenges players with nine exhilarating acts that will truly test their skills to the limit. But that's not all! Keep an eye out for secret areas waiting to be discovered. Each comes with its own set of trophies that enhance your gaming experience and sense of achievement.
This exciting jumping and escape game brings platformers to a new level with its brand-new infinite mode. How far can you run? How high can you jump? How quickly can you escape? These are questions only the bravest players can answer. Your skills will be pushed to the limit as you strive to surpass your personal bests.
Simply put, Vex 8 is not just another run-of-the-mill addition in the world of stickman games or platformers. It's more than just a game—it's a testament to your gaming skill and determination.
In conclusion, as I delved deeper into my Vex 8 journey, I found myself immersed in the intricacies of this well-designed action-packed platformer. Its challenging gameplay makes it stand out among other skill games available today. If you're a fan of action, running or stickman games, give Vex 8 a go - it's a ride you won't forget.
What are the best online games?