US Commando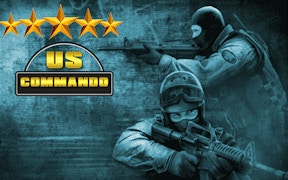 US Commando
Immerse yourself in the explosive intensity of US Commando. The ultimate fusion of gun games, battle games, and war games, this richly immersive title charts a heart-pounding course across the traumatically realistic landscapes of modern warfare. Surviving in this cutthroat battlefield takes more than just raw firepower, it's the epitome of survival games where every decision counts.
In US Commando, you aren't simply a soldier, you're a highly-trained elite commando at the heart of a gritty world war mission. It's an intense ride that will tickle the fancy of hardcore fans of gangster games and sword games. Your arsenal is versatile, and tactics are paramount; attack stealthily with melee weapons or unleash hell with devastating firearms.
The thrill of combat in US Commando is matched by its stunningly detailed environments. War-ravaged cityscapes and deserted battlegrounds become your arenas. The game's visceral touch is maintained through its controls—WASD/Arrow keys for movement, left mouse click to shoot, and right mouse click to aim. They are simple yet fully functional, evoking the frantic tension that holds sway on real-life battlefields.
US Commando's most impressive feat, though, lies in its organic game mechanics: each operation builds upon the last. You're not merely surviving—you're evolving. Fend off wave after wave of enemy assaults and become the last commando standing on this ruthless final battleground.
In conclusion, US Commando marries all aspects we love about gun games and survival games into one explosive package. A testament to colossal war missions and thrilling commando assaults at every turn—US Commando is more than just another title in the realm of battle games; it's an exhilarating exploration into what makes war games so compelling - survival against all odds.
What are the best online games?