Triple Run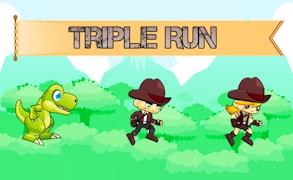 Triple Run
Description
In Triple Run, your endurance and reflexes are put to the test. This action-packed tap game sends you on a thrilling challenge divided into three difficulty levels. Your task is to navigate through the levels, avoiding obstacles and collecting bonuses to go the distance. It's not just about speed, but also about precision, wit and dexterity. Dare to play on hard level and set unbeatable records!
How to Play
To play Triple Run, all you need is sharp reflexes! Simply tap or click on the screen to avoid obstacles. Remember, timing is everything in this fast-paced game. The higher the difficulty, the faster you'll need to think and act. As you progress through the levels, collect boosts for extra speed or invincibility that can help you smash your previous records.
Tips and Tricks
Mastering Triple Run requires practice and patience. Start with easier levels before tackling harder ones. Learn the patterns of incoming obstacles and boosts - anticipating is key! Use your collected boosts strategically; sometimes slow and steady wins the race.
Features
Three Difficulty Levels: Test your skills on easy, medium and hard.
Action-Packed Gameplay: High-speed running filled with exciting twists.
Pickups & Boosts: Collect special items that can turn the tide in your favor.
Shareable Scores: Beat your friends' scores and share your triumphs!
What are the best online games?