Trapped In Hell: Murder House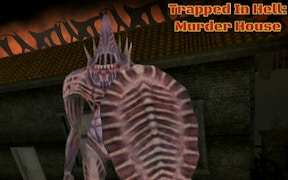 Trapped In Hell: Murder House
Welcome to the spine-chilling, heart-pounding realm of Trapped In Hell: Murder House, a terrifying concoction of gun games, survival games, battle games, monster games, scary games, and last but not least, the shudder-inducing world of horror games. This frightful blend creates an environment that will have gamers gripping their consoles with white knuckles.
The ambiance is drenched in dread and despair, setting the stage for the horrors that await. As a protagonist in this malevolent universe, your predicament is dire; you're ensnared within a monstrosity of a murder house and given merely five days to escape or face eternal damnation. The stakes couldn't possibly be higher.
Beware the Evil Knight, the ominous Keeper of this Hell's domain. Your every breath, each timid whispers or shuffling of feet echoes through his ears. Silence becomes your saviour and steadfast stealth your sole ally against this sinister sentinel.
In the vein of quintessential escape games, Trapped In Hell: Murder House dares you to scheme your way out using specific items hidden subtly in its depths. Unlocking each door reveals another layer of terror while inching you closer towards your coveted portal to semblance of safety.
All in all, Trapped In Hell: Murder House masterfully fuses elements from various branches of gaming genres into an adrenaline-fueled horror ride. With its top-tier graphics that bring every nightmare alive in gruesome detail and an engaging narrative filled with dread and suspense, it's clear why it's rapidly rising as a top contender among both veteran gamers and horror enthusiasts alike.
If you're seeking a thrill ride that wolves down on fear while dishing out excitement by the bucket load, then prepare to meet your match with Trapped In Hell: Murder House.
What are the best online games?