Tom Clancy's Shootout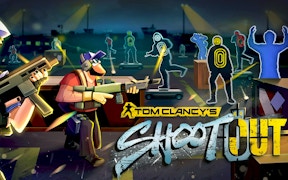 Tom Clancy's Shootout
Delve into the adrenaline-pumping world of Tom Clancy's Shootout, a game that perfectly marries the genres of gun games, battle games, and sniper games. This high-stakes virtual battlefield is guaranteed to satisfy fans looking for the heart-pounding thrill of first-person shooter gameplay. The game also cleverly incorporates elements from police games, enhancing its appeal to a broader audience.
Tom Clancy's Shootout redefines what it means to be fully immersed in an action-packed universe. You're thrust into a gripping Training Ground, where it's a relentless fight for survival. Your primary weapons: reflexes and precision. With swift response times and pinpoint accuracy, you'll be shooting targets like a seasoned pro in no time.
An innovative feature that sets this game apart from others is its intricate drone battles. Here, not only is your objective to outwit other players, but your success hinges on reaching the drones before they do. Triumphing will unlock superior weapons, awarding you an edge over adversaries and making each victory all the sweeter.
Your journey won't stop there; elite operators await your selection for even higher levels of gameplay. These skilled warriors will provide an unbeatable advantage in your quest for achieving the world's best score.
In conclusion, Tom Clancy's Shootout offers an enthralling experience for gaming enthusiasts who thrive on shooting objectives and strategic pursuits. Its blend of fast-paced gunplay with tactical battle strategies sets it apart as a superior choice among gun, battle, sniper, and police style games. Fans can expect hours of exhilarating gameplay as they navigate their way through challenging scenarios towards overwhelming victories.
What are the best online games?