Dino Game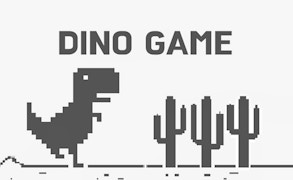 Dino Game
With how much we depend on the internet, going offline is a genuine inconvenience and problem, but Google Chrome tried to take our minds off it. However, you no longer have to be offline to play Dino Game. This may be one of the earliest examples of the endless runner with the only goal being to get the little dino as far as you can by jumping with all your might.
How to play Dino Game
Since Dino Game has the mechanics of an endless runner, most of the movement controls are on autopilot. All you need to do is control the timing or execution of the dino's jump to avoid obstacles. You can play with either the keyboard or the mouse alone by pressing either the spacebar or the left mouse button respectively. The dino will always jump at the same height and distance no matter how long you press it.
You need to time your jumps to avoid the obstacles that spawn. The main ones are groups of cacti that can be many or few, tall or short. Then there are large birds that fly at different heights requiring you to jump or not jump to avoid them. You'll reach a new level after every 10 obstacles you avoid.
Game Details
Release Date: 2014-09 (published on GamePix, 202-06-09)
Developer: Chrome UX Team
Platforms: Web Browser and Android
Languages: Dependant on your region
Last Update: 2023-07-13
Dino Game Gameplay Trailer
FAQ
Where to play Dino Game
Dino Game is available to play on Web Browser and Android devices. You can play the classic version whenever your connection goes down, or you can download it from the Play Store for free. Whenever you want to play it on your computer, just follow these steps:
Go to GamePix.com and search for Dino Game
The icon for Dino Game is a gray T-Rex
Click the icon followed by the Play Now button and the game will start loading the Title Screen
From here, just click or tap the spacebar and the game will begin
Games similar to Dino Game
Dino Game is just one of many Running Games that can be played on GamePix. If you visit that category on the site, you can find such titles as Vex, Jetpack Joyride, and Geometry Jump Game.
What are the best online games?