Funny Shooter 2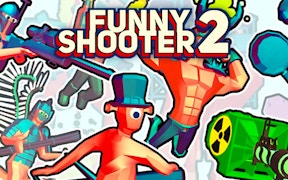 Funny Shooter 2
Prepare to immerse yourself in the outrageous, adrenaline-pumping world of Funny Shooter 2. This standout offering in the battle-games genre takes the conventions of traditional first-person-shooter games and flips them on their head, delivering a high-octane experience that's as hilarious as it is thrilling.
In Funny Shooter 2, you'll square off against hordes of outlandishly absurd enemies. These are not your typical run-of-the-mill foes - they burst with character and charm, making every encounter feel fresh and distinct. The creativity and diversity in enemy design showcase the developers' commitment to reframing what a shooting game can be.
Furthermore, this game is not just about shooting. It also introduces a robust weapons upgrade system that will keep you hooked for hours on end. Scavenge for parts, purchase rare items from friendly NPCs, and craft powerful weaponry - your arsenal is in your hands. The gun customization aspect truly distinguishes Funny Shooter 2 from other gun-games, adding an engaging layer of strategy.
The true strength of Funny Shooter 2, however, lies in its world-building. The atmosphere is whimsical yet immersive, drawing players into its distinct universe while also providing plenty of laugh-out-loud moments. From its lively locales to its zany characters, every aspect of this game oozes personality.
In conclusion, Funny Shooter 2 is more than just a game; it's an exhilarating escape into a world where humor meets high-stakes action. This perfect blend of addictive gameplay mechanics and charming narrative makes it one of the must-play titles for fans of battle-games and first-person-shooter games. Don't miss out on this unique gaming gem!
What are the best online games?