Time Shooter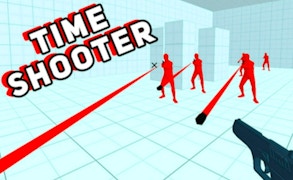 Time Shooter
Time could be considered an abstract concept and we still need to learn more about it, but we know enough to make games like Time Shooter. As the title may indicate, this is a 3D first-person game in a digital void full of hostile figures. You're armed and must take them out before they take you out. However, everyone in the void is at the whim of the strange rules of time that are in play. The only way to get out alive is to learn the rules and then bend them to your advantage. It is both simple and complex at the same time which is a tricky balance to strike.
About Time Shooter
Time-based adventures and concepts are pretty popular in video games and this one is using a mechanic that makes it quite enjoyable. Even though everything is happening in real time, it's the "time" part that's interesting. The way the mechanics are arranged gives it the same feel as a strategy or even a puzzle game. It's all about how you move, where you look, and the shots you take all working in tandem. Even the slightest movement can determine whether or not you get shot, but you're the only one with the power to manipulate time as you do what you can to make sure that you survive.
How to Play
Time Shooter is a 3D first-person shooter played with the mouse and keyboard, having two control options.
Controls
Mouse Cursor - Look/AIm
Left Mouse Button - Fire/Grab Weapon
Right Mouse Button - Throw Weapon
W/Up Arrow - Move Forward
S/Down Arrow - Move Backward
A/Left Arrow - Move Left
D/Right Arrow - Move Right
In each level, your objective is to eliminate all the targets. The main mechanic is time in that nothing will move while you're not moving. This allows you to survey your surroundings and enemy positions so that you can move and counterattack effectively. Both you and the enemies are very fragile, only being able to withstand one shot. You start with a pistol with a full clip, but can throw it as another attack and you can get others from your enemies. As you move around, enemies will take shots at you and you'll have to retry if you get hit. Once all the enemies are eliminated, you'll complete the level.
Tips and Tricks
Enemies will always know your position, but luckily are unable to chase after you. From your starting position, look around to spot as many enemies as possible then use side-stepping while firing back. You can also line up enemies so that they hit each other and you can safely hide behind most cover scattered around the area.

Game Details
Developer: GoGoMan
Platforms: Web Browser (PC and mobile)
Languages: English and Russian

Gameplay Footage
FAQsIs Time Shooter based on another game?
This title could be seen as a more condensed version of the game SUPERHOT which is larger and even has a VR adaptation as well.

Who invented the first FPS?
It's believed that the very first FPS game is Maze War, created by Steve Colley, Greg Thompson, and Howard Palmer in 1973.

Games similar to Time Shooter
Based on the content and mechanics, you can find this game in the FPS and Shooting Games categories on GamePix. This game is also part of a series including the games Time Shooter 2, and TIme Shooter 3: SWAT. There's also Squid Shooter and Funny Battle Simulator if you want to try something a bit different.
What are the best online games?