The Speed Ninja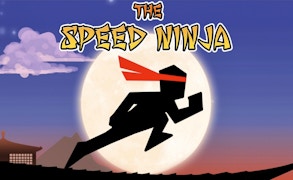 The Speed Ninja
Bring your inner ninja to life as you embark on an adrenaline-induced adventure with "The Speed Ninja", a game that effortlessly merges the thrill of running games with the mystique of ninja games. As a fierce warrior sprung from the heart of the Rising Sun, you're thrust into a world where quick reflexes and nimble jumps are your saviors.
Every level is an engaging race to ring gongs - strategically positioned at the very end. The gongs, your only chance to warn your village about the impending army's onslaught - an innovative twist that ramps up this game's survival instinct. But it's not just about survival. It's about speed and agility, only then can you truly become The Speed Ninja.
As you leap from roof to roof, evoking awe-inspiring visions of ancient Japanese architecture juxtaposed against vivid skies, the immersive settings transport you right into the heart of a traditional Asian village. The veritable journey that this game offers is one filled with danger and excitement, making it one of the top picks in the ninja games and running games categories.
The intriguing storyline paired with engaging gameplay mechanics makes The Speed Ninja more than just a game. It's a testament to times when honor was everything and survival meant outsmarting not only your enemies but also yourself. If you've got what it takes to turn crises into victories and silence into warnings, then this game is for you.
In conclusion, The Speed Ninja offers an exhilarating playing experience with its fast-paced action, innovative objectives, intuitive controls and immersive setting. Whether you're a fan of running games or have a bend towards ninja lore - this game will have something for everyone.
What are the best online games?
Tags