The Spear Stickman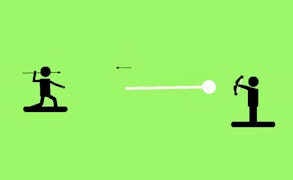 The Spear Stickman
Welcome to the adrenaline-fueled world of The Spear Stickman, a visceral game that merges the thrill of archery games with the gritty aesthetic of stickman games. This review delves into the stunning action-packed universe that sets a new standard for strategic battle games.
A triumph in its genre, The Spear Stickman offers an unparalleled player experience. The gameplay, as intense as it is challenging, demands precision and speed from its players. The stakes are high, and one wrong move could mean game over. But with risk comes reward, and when that spear strikes true? There's no greater satisfaction.
What truly elevates The Spear Stickman from other archery or stickman-based games though, is its unique battle arena. Each clash unfolds in real-time, making every fight a tense and explosive affair that will have your heart racing. Enemies come in waves; their cruelty is matched only by their cunning. To survive, you'll need to adapt fast and aim true.
The game stands out impressively against the backdrop of many action games available today by trading complicated control schemes for simpler ones without compromising on depth or complexity. Indeed, in The Spear Stickman, less is more.
In conclusion, The Spear Stickman boldly reinvents archery games and stickman games, delivering a fresh take on battle games. Its excellent gameplay mechanics are intuitively designed yet difficult to master - an invigorating challenge sure to captivate seasoned gamers and newcomers alike. So whether you're a stalwart fan of stickmen duels or an archery afficionado looking for something new to sink your teeth into - The Spear Stickman delivers.
Dare to step into this thrilling arena? Experience the excitement of battle games like never before with The Spear Stickman - where every shot counts.
What are the best online games?