The Archers 2 Online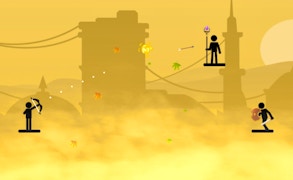 The Archers 2 Online
Prepare to take aim and unleash your inner marksman with the enthralling Action game, The Archers 2 Online. For fans of archery games, stickman iterations, or skill-based battle arenas, this game proves to be a masterstroke in combining all three elements.
Unquestionably one of the best stickman games on the market, The Archers 2 Online takes archery to an entirely new level. It's not just about firing arrows; precision, timeliness, and strategy are paramount. It draws out the tactician in you - each shot must be carefully considered lest you become fodder for enemy stickmen.
The gameplay incites a feverish rush as you determine how best to bring down advancing foes. Engage in pulse-pounding duels that require quick thinking and quicker reflexes. Each enemy stickman poses a unique challenge that tests your prowess at every corner, making it one of the most stimulating skill games.
In this frantic skirmish of survival where it's kill or be killed, you're armed only with your bow - but don't underestimate its power. As you progress, your arrows morph into deadly bee stingers that can deliver fatal blows to adversaries.
The Archers 2 Online shines with its blend of tension-filled gameplay and skill-testing mechanics – making each victory feel truly earned. And the satisfaction? Immeasurable. Like hitting a bullseye from a hundred meters away; proving once again that you're not just an archer – but the best marksman in town!
This is more than just an archery game or another entry in the list of stickman games. It's an irresistible call to those who thrive on skill-based challenges and crave for intense action-packed encounters. Test your mettle; find out if you've got what it takes to survive in The Archers 2 Online.
What are the best online games?