Terrorist Attack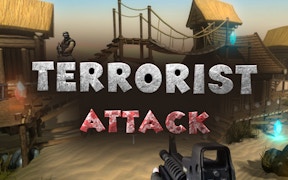 Terrorist Attack
If you're a fan of gun games, then you're in for a treat because today, we're taking on the hyper-immersive world of Terrorist Attack. Every clicking second in this game is an adrenaline-filled journey that merges elements of sniper games, gangster games, and even resonates with the thrilling aspects of battle games and survival games. Be prepared for an explosive ride!
Terrorist Attack plunges you into an immersive battleground where your city has been seized by terrorists. You play as the city's last line of defense, tasked not just with surviving, but also saving your beleaguered city. Your arsenal? A trusty gun and a hair-trigger reflex honed by many a sniper game.
The controls are intuitive and easy to grasp. With the simple tap on R, you can reload your gun while your mouse is your primary tool for aiming and dispatching terrorists. This fluent combination feels natural and really immerses you into the shoes of a hardened counter-terrorist operative.
The essence of Terrorist Attack is in its tension. Each moment is a visceral contest between life and death, reminiscent of classic survival games like Resident Evil or The Long Dark. But here, instead of facing zombies or harsh wilderness, you face a whole terrorist organization.
This thrilling experience comes distilled with beautiful graphics and precise sound design that puts many other gangster games to shame. The attention to detail pays off – each gunshot echoes with menacing resonance; each explosion adds another layer to the heart-thumping suspense.
In conclusion, Terrorist Attack brilliantly combines the tense atmosphere of sniper games with the strategized combat found in battle games, all wrapped up with survival elements that elevate this title above common gun games. Brace yourself for an unforgettable roller coaster ride that will keep you on the edge from start until finish.
What are the best online games?