Tank Zombies 3D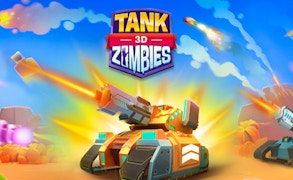 Tank Zombies 3D
Immerse yourself in a post-apocalyptic world with Tank Zombies 3D, an adrenaline-pumping mashup of the best elements from tank games, zombie games, survival games, and gun games.
Picture a not too distant future, where civilization has been ravaged by an onslaught of the undead. The world has become a playground for the ruthless zombie horde. The only chance of survival? A few operable tanks left behind. It's a narrative that doesn't just make for compelling storytelling, it sets the stage for high-octane gameplay that will leave you on the edge of your seat.
The game positions you in the driver's seat of these steel beasts as mankind's last hope. Your mission to weave through teeming mobs of ravenous zombies and deliver humanity from its demise.
Tank Zombies 3D's gameplay isn't just about mowing down zombies; it pushes you to strategize, upgrade, and evolve. Level up your units to fight off zombies that are steadily growing in power. This dynamic evolution system gives a sense of progression and continuous challenge. It feels rewarding when your tactics pay off against an endless swarm that's always adapting and growing stronger.
In conclusion, Tank Zombies 3D seamlessly blends in elements from various gaming genres providing players with an all-rounded action-packed experience. Strap yourself into your tank's hatch and prepare for a gripping ride into the heart of zombie-infested terrains! Unleash cannonballs of justice onto your undead adversaries and take back what's left of our world.
If you're looking for an engaging fusion of tank games, gun games, survival games, and zombie games – look no further than Tank Zombies 3D.
What are the best online games?