Tank Stormy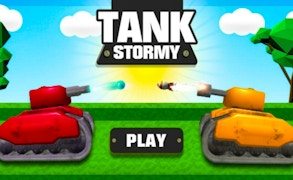 Tank Stormy
Step into the thrilling, adrenaline-fueled world of Tank Stormy, one of the most dynamic battle games that seamlessly amalgamates the immersive elements of tank games, engaging mechanics of 2 player games, and visceral intensity of war games.
Tank Stormy is a high-octane roller coaster ride that pits you against your friends in an all-out, breathtaking tank onslaught. The game's "2 Player" mode allows for a thrilling head-to-head competition, turning casual gaming sessions into electrifying, teeth-clenching clashes.
The game's intricate labyrinth walls serve as both, an obstacle and a tactical advantage: a compelling feature that sets this game apart from other plain-vanilla tank based offerings. But if you think you've got it all figured out, think again. The game enlivens your senses with its unpredictable twists and turns in the form of bonuses scattered throughout the map.
The suspense never ends here as every corner turned could be either your victory or doom. This palpable tension transfers seamlessly into the game's "Survival" mode - a whole new level of fear and challenge. Here, competition escalates exponentially as players are pitted against AI opponents that bring unpredictability and chaos to every moment.
In essence, Tank Stormy takes conventional tank games and elevates them to another level altogether - one saturated with strategy, quick decision making and unbridled thrill. From its nail-biting multiplayer clashes to its unpredictable AI battles - Tank Stormy encapsulates everything we love about survival games.
Come bid farewell to boredom with this explosive mix of strategy and action – download Tank Stormy today! Whether you're seeking an exhilarating PvP experience or looking to test your mettle against relentless AI opponents – Tank Stormy has it all!
What are the best online games?