Tank Stars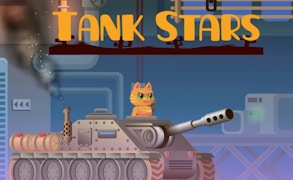 Tank Stars
Unleash the warrior within you with Tank Stars - a captivating, adrenaline-pumping game that masterfully combines the thrill of tank games and the light-hearted fun of cat games. This unique blend makes it one of the must-try games for kids, with a tactical edge that appeals to seasoned gamers as well.
In Tank Stars, the suspense holds you at the edge of your seat as you spot a tank lurking in your shooting area. It's an ominous sight – an enemy at your doorstep. But fear not, for in this world of artillery and action, you're gifted with the power to obliterate it swiftly.
Stepping into this enthralling battlefield, you'll quickly discover that Tank Stars isn't merely about tanks; it's about strategy and quick thinking. The gameplay encourages you to calculate your moves smartly and respond promptly, testing your skills in a high-octane environment.
As if the thrill of tank warfare was not enough, Tank Stars ups the ante with its charismatic cast of characters. From feline warriors to tank-driving cats, these peculiar protagonists inject a dose of humor into this explosive mix, making it an instantly lovable cat game among games for kids and adults alike.
The impeccable balance between intense shooting action and endearing cat-themed fun is what propels Tank Stars beyond many typical tank games. The game teases your brain cells just as much as it teases a smile on your face – making every session an absolute delight for gamers who prefer their gaming experiences tinged with humor and brains.
In conclusion,
Tank Stars
stands tall among its peers with its vibrant visuals, engaging gameplay mechanics and infectious humor that will keep players engaged for hours on end. It is indeed a shining star among both tank games and cat games.
What are the best online games?
TAGS