Super Sniper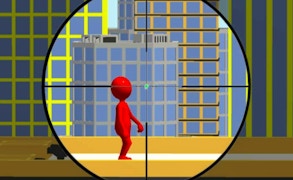 Super Sniper
Immerse yourself in the shadowy world of stickman sharpshooters with Super Sniper, one of the most thrilling gun games that takes you on a gripping journey in the realm of stickman games. With your trusty firearm by your side, prepare to snuff out your enemies one bullet at a time.
A standout amid other sniper games, Super Sniper, and its exceptional mechanics have carved out a unique space for itself. It combines the unadulterated joy of impeccable marksmanship with the sheer thrill of stealth. Mastering your assassination skills has never been more fulfilling or enjoyable. Precise shooting, stealthy maneuvers, and strategic gameplay - this game delivers everything you crave in shooting games.
This game redefines stickman experience by weaving an engaging narrative with intense action sequences. Each mission invites you to take on taxing assignments which will stretch your sniping prowess to the limit, offering a satisfying challenge to even veteran gamers.
With sleek animation and captivating mechanics, Super Sniper demonstrates that a stick figure can indeed harbor an ocean of intrigue. Immerse yourself in this game's immersive atmosphere - the visuals are deliberate and minimalistic, yet strikingly effective. The attention to audio detail elevates the tension and ramps up anticipation as you draw a bead on your quarry.
Super Sniper's simple control layout makes it easy for beginners to pick up but it's complex enough that seasoned players will continue finding new challenges. The satisfaction of cleanly executed shots is rewarding while the escalating difficulty keeps you coming back for more.
The landscapes/environment are varied adding richness to each scenario; every location feels unique, increasing the engagement factor in every mission.
If you're a fan of stickman games, or just enjoy getting lost in high-stakes action from behind the scope of a high-powered sniper rifle, Super Sniper should be your go-to choice. Addictive gameplay coupled with strategic depth makes this larger than just another entry in gun games.
What are the best online games?