Super Droid Adventure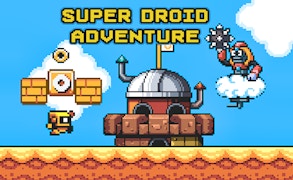 Super Droid Adventure
Description
In Super Droid Adventure, you will engage in an exhilarating journey as a brave Robot who is up against a formidable boss that has razed his abode to the ground. The game unfolds with thrilling challenges involving treacherous traps and ruthless adversaries aiming to thwart your mission. To aid your quest, you can unlock power-ups and collect coins by demolishing blocks. With an armory of firepower, strategize to overpower your enemies and reclaim your castle.
How to play
To maneuver the Robot, use the directional keys. Actively engage in discovering surprises by breaking blocks. Collect power-ups and coins to improve your strength and capabilities. Use the firepower wisely to obliterate obstacles and enemies in your path. Your ultimate goal is to reach and defeat the dangerous boss who has taken over your castle.
Tips and Tricks
Explore all corners of each level for hidden surprises. Using firepower, clear out large sections of blocks at once to uncover more power-ups quickly. Pay attention to enemy patterns and time your attacks accordingly. Lastly, remember that every coin counts, so make sure you collect as many as possible.
Features
Fascinating pixelated graphics rendering a retro gaming experience.
A variety of traps and enemies adding excitement at every step.
Block-breaking gameplay leading to unexpected power-ups.
A compelling storyline with the heroic Robot battling against a powerful boss.
An array of strategic options with firepower deployment.
What are the best online games?
Tags