Bob the Robber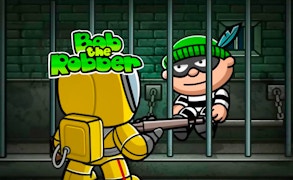 Bob the Robber
The mark of any skilled thief is to get in and get out before anyone realizes what has happened in this what you'll be doing in Bob the Robber. The game puts you into the role of Bob, a guy who from a very young age knew that he wanted to be a robber. He is now on his own 2D stealth adventure to steal from the wealthiest targets in his city. Luckily, he's very skilled when it comes to the thieving and stealth trades, you just need to use them correctly. If you do, you can steal a king's ransom before anyone catches a glimpse of you.
About Bob the Robber
Stealth games are one of the more complex and challenging games, especially when you have limited actions to take. Bob may be a robber, but that's all he is and you need to respect that. You have more than enough skills to navigate through each environment, you just need to exercise caution, patience, and timing. It's a harmless and solid introduction into the stealth genre having a feel similar to a puzzle game. Still, it can be a bit tense when you find yourself in a tough spot surrounded by alarms and sentries.
How to Play
Bob the Robber is played with slowly the keyboard and you have two options in terms of control schemes.
Controls
W/Up Arrow - Climb/Interact
S/Down Arrow - Climb Down
A/Left Arrow - Move Left
D/Right Arrow - Move Right
Spacebar - Knockout Target
Number Keys - Enter Code
When you come across a lock, an electric panel, a keypad, or the target of the heist, you need to interact with it. All except for the keypad require you to hold the button until the gauge that appears fills up, completing the action. For the keypad, interacting brings it up and allows you to enter the code. You can also interact with background objects like boxes and shelves to try and get extra loot.
As you explore the levels, you'll need to evade cameras, security lasers, and sentries. The cameras and sentries can be avoided by staying out of their line of sight and hiding in the shadows by standing still. If you're able to sneak up on an enemy, you can use the knockout button to disable them. Lasers need to be deactivated by sabotaging an electric panel. When spotted, your alarm rating will increase and the time it takes to go away will be longer the more alarms you raise. If the alarm rating maxes out, you'll be busted and have to retry the level.
To complete the level, you need to get to the room with the prize loot and data. When you do, hold the interact button to start stealing it. Once collected, you need to make it safely back to the start point to complete the heist. A star rating out of five will appear to indicate whether you found all the extra loot.
Tips and Tricks
This is a game where all the levels show you the full map with all the dangers and points of interest at once so take your time to survey everything. When picking locks and such, make sure that Bob is directly in front of them or the input won't work. Lastly, Bob moves slowly so don't try to run past sentries or cameras.
Game Details
Developer: Alexey Davydov
Platforms: Web Browser (PC and mobile) and Android (Bob the Robber 4)
Languages: English
Gameplay Footage
FAQs
Is Bob the Robber free?
The game is currently free to play and download if you so choose. Even the app entries in the series are free too.
Is this an offline game?
You'll need an internet connection if you want to reliable play the game through a Web Browser. However, if you download the app or APK, you can play it offline.
Games similar to Bob the Robber
From the themes and gameplay, this game can be found in the Adventure and Escape Games Categories of GamePix. You can also find the titles Aground, Vangers, Fireboy & Watergirl, and Smart Looter.
What are the best online games?