Santabalt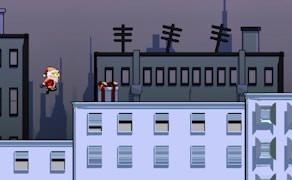 Santabalt
Immerse yourself in the exhilarating world of Santabalt, a cutting-edge game that adds a modern twist to the traditional Christmas narrative. As one of the most entertaining running games currently on the market, it's a can't-miss addition to your gaming library. If you're a fan of heart-thumping Action and Skill Games, this high-energy Christmas epic is custom-made for you.
Drawing inspiration from the renowned Canabalt, Santabalt sets itself apart with its festive charm and fast-paced gameplay. The game centers around Santa as he courageously leaps from rooftop to rooftop in an endless runner format. The goal? Preserve the Christmas spirit by any means necessary— even if it means taking some death-defying leaps along the way!
The innovative clicker games mechanic makes Santabalt exceptionally engaging. This is not just an idle tap-and-watch experience; it demands precision, timing, and strategy at every turn. It's a standout among Tap games, challenging players to hone their skills and conquer new heights with each playthrough.
Of course, what truly sets this game apart is its bold reimagining of typical Christmas games. Santabalt's festive theme isn't just for show; it directly influences gameplay elements and mechanics, making each round unique and bringing the holiday spirit right into your gaming space. In short, Santabalt isn't just another run-of-the-mill endless runner; it's an immersive Christmas experience.
In conclusion, whether you're a fan of runner or clicker-style Action games or merely someone seeking some holiday cheer, don't miss out on Santabalt! Its joyous mix of fast-paced strategy and festive charm makes it one of the season's must-play titles. So why wait? Jump into action with Santabalt and start spreading holiday cheer today!
What are the best online games?