Super Billy Boy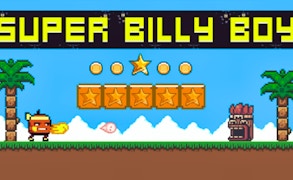 Super Billy Boy
Immerse yourself in the classic arcade realm with Super Billy Boy, a captivating platformer that's part of the rapidly expanding universe of pixel games. A homage to retro games and mario games, Super Billy Boy offers an addictive blend of challenging gameplay and nostalgia-inducing graphics like no other.
In the diverse saga of skill games, this riveting adventure stands out. Our plucky hero, Billy, embarks on a perilous journey across an unknown planet teeming with hostile alien robots and treacherous traps. With richly detailed pixel art aesthetics, each level becomes a striking tableau of danger and suspense.
The game strikes a delicate balance between platformer landscapes and strategic skill-based challenges that will murmur tales of the golden era of mario games. Packed with adrenaline-pumping action ensnared in a multi-layered story, it is your mission to help Billy rescue his friend Adduk from the clutches of an alien robot.
A symphony for the senses, Super Billy Boy is captivating in its visual narrative while its auditory landscapes transport you back to older times when retro games ruled the roost. The gameplay mechanics are smooth and intuitive, ensuring every gamer, whether novice or experienced, can enjoy navigating through chaotic landscapes in this pixel paradise.
Enriching the legacy of platformer titles with proficiently designed skill games barriers, Super Billy Boy stands tall amongst the best retro games we have seen in recent times. This game brings back memories from the past while pushing boundaries with challenging quests and unexpected twists.
To sum it up, Super Billy Boy is more than just another game on your console; it's a vibrant journey that taps into your strategic skills leaving you side-scrolling for hours on end. It's time to dive into this addictive platformer game and help our hero save his friend!
What are the best online games?