Money Movers 3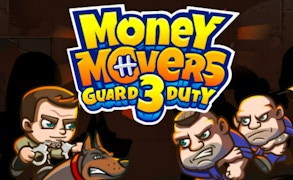 Money Movers 3
Step into a world where vigilantism takes on a whole new dimension in Money Movers 3, an adrenaline-pumping blend of the popular money games and escape games genres. This high-octane adventure game brings together the thrill of heist planning with the mind-bending puzzles typical of escape games, all rolled into one riveting package.
In this latest installment, you take on the roles of a daring prison guard and his trusty canine companion, both bound by their shared mission to capture thieves in a dangerous prison environment. This unique dual character gameplay elevates Money Movers 3 above your run-of-the-mill escape games, offering an immersive experience that will keep you at the edge of your seat.
The innovative combination of these two genres results in a dual-layered challenge. For those who relish the strategic depth offered by 2 player games, Money Movers 3 delivers in spades. You'll need to deftly switch between the two characters, capitalizing on their unique abilities to outwit and outmaneuver your opponents.
This game is also an absolute treat for fans of Skill Games. The intrinsically designed levels, each packed with ever-increasing difficulty as you progress through the prison's labyrinthine layout, ensures plenty of opportunities to test and refine your gaming prowess.
In conclusion, Money Movers 3 has all it takes to offer a memorable gaming experience: high stakes thrills reminiscent of money games, intricate puzzle-solving demanded by escape games, and fierce competition inherent in 2-player games. Above all else, it guarantees endless hours of pulse-racing excitement for those who dare embark on this audacious adventure!
What are the best online games?